#1 Free CRM tool
Your Time, Your Schedule: CrmOne's Free Appointment Scheduler
Laverage CrmOne's free schedule maker and never miss out on upcoming meetings.
Let prospects/leads book schedules as per their preferred time.
Easy to schedule appointments.
Save all upcoming appointments in one place.
CrmOne creates smart contacts for each unique contact.
Enhance Efficiency with CrmOne's Schedule Maker
The CrmOne appointment scheduler helps your prospects easily schedule an appointment with you. Your prospects can choose to either book one on one appointment or with the group.
Every time a prospect schedules an appointment with you using the CrmOne appointment scheduler, your prospects' contacts get automatically added to the smart contacts, helping you build your email list and nurture them through email, text and calling features.
Improved Customer Engagement with Schedule Maker
CRM software with a Schedule Maker provides a more personalized experience to their customers. When a customer schedules an appointment, their information is automatically logged in the CRM system and can be used to tailor interactions and provide better services.
This tailored approach not only respects customer preferences but also increases the likelihood of a positive response.
Enhanced Team Collaboration
In businesses where multiple team members are involved, a schedule maker in CRM facilitates collaboration. Team members can view and access the same schedule, ensuring everyone is on the same page. This helps avoid scheduling conflicts and ensures a seamless customer experience.
Time and Resource Optimization
Efficient scheduling with CrmOne software minimizes downtime and optimizes resource allocation. It ensures that employees are assigned tasks and appointments that align with their skills and availability, maximizing productivity and reducing wasted time.
Comes with access to CRM software
CrmOne free appointment scheduler comes with access to our CRM tool. With this tool, you can effortlessly manage up to 1000 contacts without any cost. Plus, it enables you to nurture your contacts through sales funnels, email marketing, and text messaging.
Create your customized landing pages and seamlessly integrate the schedule maker to connect with your target audience and conveniently schedule appointments with you.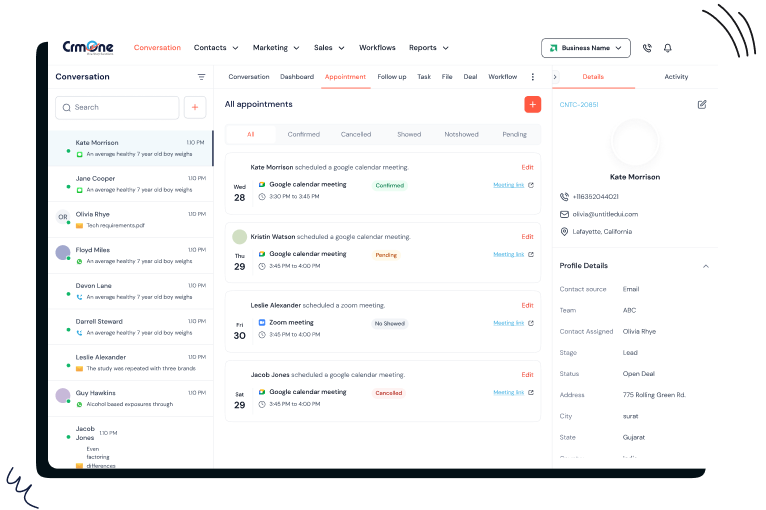 If you got any questions in mind, call us now we will help you with all possible answers.
Try Our Schedule Maker for FREE?
Click here to access your free trial and discover a more organized and efficient way to manage your time